Banner Image by Marlene Smith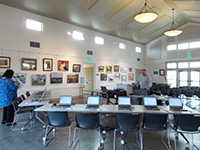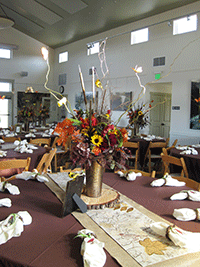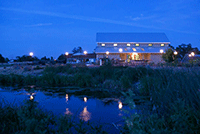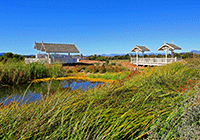 Great Blue Heron Hall Facility Rental
PLEASE NOTE
We are currently in the process of reviewing our rental program
and are NOT accepting new rentals.
_______________________________________
Hold your event in a very special place! Great Blue Heron Hall at the Laguna Environmental Center is the perfect setting for your next meeting, symposium, professional gathering, retreat, workshop, seminar, in-service training, conference, lecture, book signing, or documentary film event.
At this time, we are NOT able to host weddings and social events at Heron Hall,
only educationally-oriented events. Please see our FAQs.
A Great Place for Your Meeting or Educational Event!
• Beautiful new building in a peaceful, pastoral setting
• Historic location overlooking the natural beauty of the Laguna de Santa Rosa
• Flexible space with a wide range of table and seating configurations
• Outdoor patio and grounds landscaped with native plants
• Wildlife observation opportunities
• State-of-the-art AV equipment and Wi-Fi
• Caterer-friendly kitchen
• Convenient location with ample, free parking
• ADA-compliant building and grounds
• Staff presence during building use
• See our full EQUIPMENT LIST that is available with rentals.
• All rental proceeds benefit the Laguna de Santa Rosa Foundation

Hall Details:
• 1,540 square foot event space (see FLOOR PLAN)
• 1,200 square foot patio
• Magnificent views of the Laguna and Santa Rosa plain, including Mt. St. Helena and the Geysers
• Comfortable tables and chairs for up to 100 people inside, with more seating possibilities outside
• Beautiful kitchen appliances
• Large 14 ft screen
• Multiple microphones and built-in speakers
• Convenient restrooms with green features
• Easy access to patio, grounds & picnic tables
• Click here for useful, detailed DIRECTIONS to the Laguna Environmental Center.
Approximate Indoor Capacities:
• Reception (mostly standing) ~150
• Assembly/Presentation (auditorium seating) ~100
• Workshop/Dining (sitting around tables) ~70-90
• Larger capacities are possible when weather allows for utilizing the additional outdoor spaces.
_______________________________________
For more information, please email HeronHall@LagunaFoundation.org.