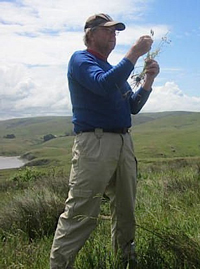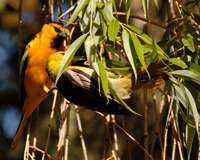 Bullock's Oriole, male and female.
Photo by Michael Leahy

Photo by Dave Biggs
Laguna Foundation Public Education Events
2016 Schedule
___________________________________________________________________________
Exploring the Plant World of the Laguna de Santa Rosa: Field Trip with Peter Warner
Sunday, June 5, 9:00am-4:00pm
Meeting at the Laguna Environmental Center, 900 Sanford Road, Santa Rosa, CA 95401
$60. Pre-registration required (see below.)

The Laguna de Santa Rosa provides myriad opportunities to observe the influence of water and soils on the structure and composition of vegetation. On this trip into the Laguna and adjacent grasslands and valley oak savanna, we'll traverse a diversity of soil moisture regimes, and learn how to identify a number of late spring flowering plants, including grasses, wetland trees and shrubs, sedges, rushes, and sunflowers. Along the way, we'll discuss some of the adaptations various plants have evolved in order to live and thrive under conditions ranging from saturated soils to severe summer moisture deficits. This walk will cover 2 to 3 miles, and proceed at a leisurely pace.
Peter Warner
has been involved in the study of plants and ecology for more than 40 years, coinciding with his westward migration from East Coast roots. While some evidence exists for his earlier interest in plant life, the fossil record is incomplete. During his Precambrian era working in urban forestry and landscaping in the Bay Area, he became absorbed in the study of wild plants in California and the American West, and eventually earned a B. S. and then an M. A. in Biology (Ecology), both from Sonoma State University. He has worked for national and state parks, and provided botanical and ecological consulting services to conservation organizations, public agencies, and private land managers. He has taught botanically-oriented classes and workshops, and organized hundreds of trips throughout California and beyond to explore ecological diversity. His work is primarily focused on learning and teaching about the critical importance of intact ecosystems and ecological processes to the long-term health of all life.
___________________________________________________________________________
Family Birding in the Laguna with Lisa Hug
Sunday, June 12, 2016, 9:00am-11:30am
Meeting at the Laguna Environmental Center, 900 Sanford Road, Santa Rosa, CA 95401
FREE. Pre-registration required through the LandPaths website.

Take a walk with your whole family in the Laguna de Santa Rosa and learn about the birds of the area. Watching birds is a great way to spend time with your loved ones. It doesn't matter if you are marveling over the huge size of the Great Blue Heron, or admiring the colors on the tiny Lesser Goldfinches, it is a fun activity for people of all ages. The trail through the Laguna de Santa Rosa area is a winding, flat, paved trail with a mixture of Oak Trees, grasslands, vineyards, and a willow wonderland circling a beautiful pond. Come and join us for a fun June Sunday morning.

Lisa Hug originally came to California from the Midwest in 1986. She was very involved with Point Reyes Bird Observatory and eventually became a contract biologist and freelance naturalist in the mid-1990s. She has been teaching for the College of Marin, Petaluma Adult School and Point Reyes Field Institute for over a decade. She was president of Redwood region Ornithological Society for two years and received the Martha Bentley and Ernestine Smith Award For the Dedication to Wildlife Conservation Education in 2009. She is currently a regional Coordinator for the Sonoma County Breeding Bird Atlas. In 2014 she worked with the Laguna Foundation as the editor of our Birds Checklist for the Laguna de Santa Rosa, which can be bought through the Laguna Foundation Store or in our Heron Hall Gift Shop at the Laguna Environmental Center.
This free program is made possible through a partnership between the Laguna Foundation, LandPaths and the Sonoma County Agricultural Preservation and Open Space District. The District permanently protects the diverse agricultural, natural resource and scenic open space lands of Sonoma County for future generations. It is funded through a quarter-cent sales tax that was voted in by the residents of Sonoma County.


______________________________________________________________________________________
Messengers of Summer: Sonoma County's Dazzling Dragonflies
Workshop with author and dragonfly expert, Kathy Biggs
And with special guest and Executive Director of the Laguna Foundation, Kevin Munroe
Saturday, June 25, 2016, 9:00am-3:30pm
Location: Heron Hall, Laguna Environmental Center, 900 Sanford Road, Santa Rosa, CA 95401
$55. Pre-registration required.
Join us as we welcome summer with a special day-long workshop with dragonfly-experts Kathy Biggs and Kevin Munroe. We'll start with a morning presentation by Kathy Biggs in Heron Hall, lunch by the dragonfly-rich pond at the Laguna Environmental Center, followed by fun-filled time in the field. Kathy will share the biology, life cycle, and ecology of Odonata (the family to which dragonflies and damselflies belong) and learn how to identify the most common species in Sonoma County. The afternoon field trip will be an opportunity to practice identification skills and to observe the unusual and fascinating behaviors of dragonflies. Learn about how the Laguna de Santa Rosa is part of the Pacific Flyway, used not only by birds but by "Odes" (dragonflies) too! All skill levels welcome. Bring your own sack lunch. Coffee, tea and snacks will be provided.

Kathy Biggs is a local birder and nationally prominent expert on dragonflies and backyard wetlands biology. She is the author of Common Dragonflies of California: A Beginner's Pocket Guide, as well as other field guides and a dragonfly coloring book for children. Her newest guide is Dragonflies of the Greater Southwest - Arizona, California, Colorado, Nevada, New Mexico and Utah. For more information about Kathy's books and work, visit her website. The Biggs' field guides and coloring books will be offered for sale at the workshop. Kevin Munroe, Executive Director of the Laguna Foundation since August 2015, is also a talented naturalist, educator, and dragonfly aficionado. He started the website, Dragonflies of Northern Virginia, and is enjoying learning all about west coast "Odes."
___________________________________________________________________________
All About Owls! Special Open House
with our friends and live owls from The Bird Rescue Center of Sonoma County
Saturday, July 9, Noon-2:00pm
Location: Heron Hall, Laguna Environmental Center, 900 Sanford Road, Santa Rosa, CA 95401
FREE, donations greatly appreciated. No RSVP required.
Join us anytime from Noon to 2:00pm to learn all about amazing owls! Learn which species of owls we have in the Laguna watershed and super cool facts about their natural history. See LIVE OWLS up close and personal, and hear stories about these educational ambassador owls from the good folks at The Bird Rescue Center of Sonoma County. There will be activities for children, educational displays, as well as tours of the Laguna Environmental Center offered. Enjoy viewing Heron Hall's beautiful new art exhibit by the Pointless Sisters Art Quilt Group, and peruse the Laguna Foundation's Gift Shop. The children's playscape and picnic tables are available (with a view!).
At 3:00pm that same afternoon, The Hungry Owl Project will be giving a presentation in Heron Hall. Details and registration (required) for that presentation are listed below.

___________________________________________________________________________
Owls Rule the Night!
Presentation with Suzanne Mirviss and Star Dewar of The Hungry Owl Project
Saturday, July 9, 3:00-4:30pm
Location: Heron Hall, Laguna Environmental Center, 900 Sanford Road, Santa Rosa, CA 95401
$10 per person (non-refundable). Pre-registration required (below).
Due to the popularity of this talk, we are requiring pre-registration.

We are lucky if we hear their calls at night. Maybe we catch a flutter of wings, or the flash of a shape against the evening sky. Yet the elusive owl, because of its super abilities, is a masterful hunter and a celebrity of the animal world. In this presentation, we will discuss the owl's extraordinary vision and hearing, and its silent flight, as well as how their presence keeps nature in balance and what we need to do to protect these extraordinary creatures. The finale will be a visit with the Hungry Owl Projects' ambassador owls.
The Hungry Owl Project strives to reduce the need for harmful pesticides and rodenticides by encouraging natural predators, through conservation of habitat and erecting nesting boxes when appropriate, education and research, and resources for information on alternative methods for sustainable pest management. Suzanne Mirviss is the Education Coordinator for the Hungry Owl Project, and a frequent presenter.
Please note that the $10 fee is non-refundable.
___________________________________________________________________________
From Earth to Art: Making Art Supplies from Natural Materials
Workshop with Ane Carla Rovetta
Saturday, July 16, 10:00am-4:00pm
Location: Laguna Environmental Center, 900 Sanford Road, Santa Rosa, CA 95401
$85. Pre-registration required (see below). For adults 18 years and up.
Soils, soot, milk and sap – for thousands of years humans made nontoxic art from what was at hand. During this day of grinding, mixing, and experimenting, Ane Carla will share the historic recipes she has been researching and using for the past 20 years. Students will make four unusual natural paints. We will also try using soils chalks, historic inks, and baked charcoals that Ane Carla made. Join us for this intimate, fun, and memorable hands-on workshop in light-filled, comfortable Heron Hall. You'll be surrounded by gorgeous views of nature and the peace and quiet of the Laguna Environmental Center during a time that is closed to the public. Most workshop supplies will be provided, as well as hot drinks and light snacks.
Ane Carla Rovetta is a local science illustrator, storyteller-extraordinaire, and uses native plants and historic recipes to create art. Trained as a Zoologist, she was a field researcher for 12 years and gained unique insights into California's unusual flora and fauna. Ane Carla combines art and science in stories, paintings, and handmade art materials. An illustrator since 1978, she has illustrated 6 books and countless scientific articles and periodicals. Her art studio is a funky chicken coop, outside all city limits!
___________________________________________________________________________
Coiled Willow Basket Workshop with Charlie Kennard
Sunday, August 14, 2016, 9:30am-3:30pm
Location: Heron Hall, Laguna Environmental Center, 900 Sanford Road, Santa Rosa, CA 95401
$80. Pre-registration required (see below).
Enjoy a delightful day full of hands-on learning in Heron Hall and around the peaceful Laguna Environmental Center grounds with master weaver, Charlie Kennard. We will learn how to split and trim willow to prepare weavers, and then begin a Paiute-style trinket basket, with a foundation of whole willow. Participants can choose whether to use a gap stitch or close weaving, and may introduce some redbud weavers for color. Participants bring a sharp knife and water bowl, as well as a lunch, otherwise all workshop materials are provided.
Charlie Kennard of San Anselmo is a long-time basket weaver and student of California Indian and European techniques. He has taught for the Miwok Archeological Preserve of Marin (MAPOM), Point Reyes Field Institute, East Bay Regional Parks Botanic Garden, and in many schools and at teacher trainings. Tule boats made in his workshops can be seen at the California Academy of Sciences, the Bay Model in Sausalito, the Oakland Museum, and our own Heron Hall. You can also visit a basketry plant garden he has created at the Marin Art and Garden Center in Ross. Charlie is active in native habitat restoration in Marin, managing several projects for Friends of Corte Madera Creek Watershed.

___________________________________________________________________________
Drawing Summer's Fruits: Colored Pencil Techniques
Workshop with Nina Antze
Saturday, August 27, 2016, 10:00am-3:00pm
Location: Heron Hall, Laguna Environmental Center, 900 Sanford Road, Santa Rosa, CA 95401
$85. Pre-registration required (see below).
Come out to the Laguna and draw the last fruits of summer - little pears, berries and other delights from the gardens here at the Laguna Environmental Center. Maybe even an end-of-summer rose. Enjoy a peaceful, meditative day doing pencil work. At the same time, discover how to create vibrant color using blending, layering and burnishing techniques while incorporating the basics of botanical drawing. All levels welcome. A supply list will be provided.
Nina Antze is a Sonoma County botanical artist and quiltmaker. She has a degree in Fine Art from San Francisco State and a Certificate in Botanical Illustration from the New York Botanical Gardens. She teaches colored pencil and botanical workshops throughout the Bay Area. Learn more about Nina at her website.

___________________________________________________________________________
Also on tap in coming months. . . Stay tuned for details!
Irwin Creek and Lower Stone Farm walk, August 20
Creative Photography workshop with Dianne Monroe, September 10
Laguna Watershed talk with Dr. Wendy Trowbridge, September 22
Joan Humberstone Memorial Photography Exhibit, Opening Reception, October 8
Full-moon Irwin Creek and Lower Stone Farm walk, October 15
Talks about botany, geology, anthropology, hydrology
Talks about reptiles, arachnids, bats, and butterflies
Laguna hikes and natural history explorations
Natural history and art classes for all ages
Mid-Week Movie Nights
And much, much more!!!
For more information, contact Anita Smith, Public Education Manager, (707) 527-9277 x110 or anita@lagunafoundation.org
___________________________________________________________________________
CANCELLATION POLICY: If you are registered for an event and need to cancel, please notify us as soon as possible. Cancellations received more than 14 days in advance of the event date will receive a refund minus a $10.00 processing fee. Cancellations made between 14-7 days in advance will receive a 50% refund. We are sorry but refunds cannot be given on cancellations made less than 7 days in advance. Please also note that we often need a minimum number of participants to conduct most events. If the Laguna Foundation needs to cancel the event for any reason, we will notify you as soon as possible (at least 1 day prior to the event) and you will receive a full refund.
NOTE: $10 events are non-refundable. We're sorry, but due to significant processing fees associated with online registration services such as PayPal, we are unable to refund cancellations for $10 events.